Todos Santos, Baja California Sur.- When the foreigner Antony «N» was riding his motorcycle through a gap that leads to Rancho La Burrera, he discovered a burned-out pick-up truck on the stream.
The foreigner stopped his drive, and got out to check the site, noting that it was a pick-up truck with remains of what appeared to be a camper in the back of the unit.
The foreigner made the report of the finding to 911, thinking that it could be the Chevrolet Silverado pick-up truck, owned by the foreigner Wilmer Drean Trivett, reported missing on February 11, when he was driving his vehicle in the neighborhood of Baquetitos in the Magical Town of Todos Santos.
On the morning of February 22, members of the State Commission for the Search for Disappeared Persons and the Specialized Prosecutor's Office for the Investigation and Prosecution of Crimes of Forced Disappearance of Persons and Disappearance Committed by Individuals of the Attorney General's Office were sent of State Justice.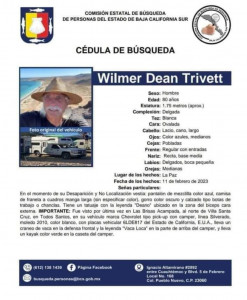 When they arrived at the site, they corroborated the information, finding the vehicle burned to 100%.
Then, the authorities began the search for the 81-year-old American foreigner, with elements from the Calafia Group, the State Search Commission, the National Guard and the Canine Unit.
YOU CAN READ: https://metropolimx.com/sexual-predator-lived-quietly-in-baja-california-sur/
However, the search operation so far has not yielded positive results.
The only find to date is the white 2010 Chevrolet Silverado pick-up truck.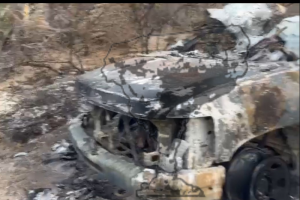 As will be remembered on February 11, the State Commission for the Search for Persons in Baja California Sur issued a search warrant to locate the American foreigner, after disappearing along with his pick-up truck and a camper.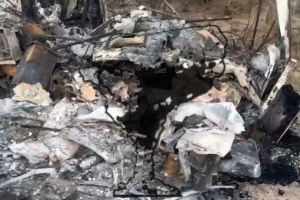 The American was last seen in the Baquetitos neighborhood in the Magical Town of Todos Santos, aboard a vehicle that bore the legend «Crazy Cow» and the grill had a cow's head.
The day he disappeared, he was wearing blue jean pants, a flannel jacket, a dark hat, and work boots.
The American commonly used to camp in Las Brisas, north of Villa Santa Cruz, in Todos Santos.