San Diego, California.- Since 1939, a cyclone did not make landfall in the state of California.
According to the forecast of the National Hurricane Center of the United States (NHC), today, after 84 years, Hurricane "Hilary," will impact this Monday and pass as a Tropical Storm, over San Diego, Palm Springs, Anaheim, Los Angeles and Ridgecrest.
News in Spanish: https://metropolimx.com/hilary-impactara-como-tormenta-tropical-a-california/
It will also drop a year's worth of rain on other points in California, Nevada and bill pm m in Arizona.
USA: #HurricaneHilary makes landfall in Palm Springs, CA, with lightning strikes & heavy rainfall.#HurricaneHillary #Hilary #Hilary #Baja #California #hurricane #SanDiego #Weatheralert pic.twitter.com/GbHnWQg5cp

— Shadab Javed (@JShadab1) August 19, 2023
«Hilary«, will cause a historic storm in the state of California, so the population is preparing for intense rains (75 to 150 millimeters), very strong (50 to 75 millimeters) and strong (25 to 50 millimeters) and floods in low-lying areas and high-risk areas.
Residents of Southern California and the Southwestern United States began to take action due to potentially catastrophic effects.
Report of NHC: https://www.nhc.noaa.gov/refresh/graphics_ep4+shtml/174308.shtml?cone#contents
The rains, according to the forecast, will begin to fall from Sunday night, and throughout the day Monday, after crossing Mexico and entering the United States.
#LIVE🔴 This is the passage of Hurricane «Hilary» as it was broadcasted live this afternoon through the Magical Town of Santa Rosalía, Baja California Sur, Mexico 👇

🎥: Alondra Morales
.
.
.#HurricaneHillary #Hurricane #SantaRosalia #BajaCaliforniaSur #Mexico pic.twitter.com/vwdw9XieGJ

— Gerardo Zúñiga (@GEZUPA) August 20, 2023
The inevitable impact of «Hilary» generated a historic tropical storm warning in California, which has aroused fear and uncertainty among the population due to the scourge of a meteorological phenomenon that they had not faced for more than 80 years.
The United States National Weather Service classified «Hilary» as a «high risk» and «severe weather» phenomenon, reporting that it could generate hail, thunderstorms, strong winds and even tornadoes.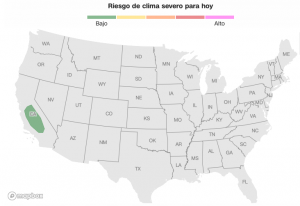 Although it is true, «Hilary» will make landfall until Monday, the effects of wind and rain will begin to register earlier.
«Preparations for the impacts of flooding should be completed as soon as possible,» the NHC warned.
The president of the United States, Joe Biden, derived from the threat posed by «Hilary«, revealed that the Federal Emergency Management Agency sent personnel and supplies in a preventive manner to Southern California and other parts of the region.
President Biden says the White House is monitoring Hurricane Hilary and FEMA is on the ground to respond as needed, and he urges Americans in the path of the storm to take precautions. pic.twitter.com/JP1Ffa2JPR

— The Recount (@therecount) August 18, 2023
The imminent impact of «Hilary» in California will become the first storm of its kind to do so in the state in the last 84 years, according to the National Oceanic and Atmospheric Administration, known by its acronym NOAA.
The risk level of «Hilary» is considered «exceptionally rare» because «it is a level 4 of 4 threat due to the high risk of excessive rain.»
Due to this threat, the governor of California, Gavin Newsom, announced that the personnel of the California National Guard prepare water rescue equipment in case of floods, and ordered traffic safety personnel to help the highways.
#HurricaneHilary is forecast to deliver substantial rainfall and @Cal_OES wants to remind Californians in flash-flood-prone areas of the dangers presented by mudslides and debris flows.

Tips to stay safe during mudslides and debris flows: https://t.co/SaxA8GOncb pic.twitter.com/Vjbb0DwyTC

— California Governor's Office of Emergency Services (@Cal_OES) August 18, 2023
The governments of San Diego and Los Angeles began this weekend to offer temporary shelters to the so-called «homeless people» who sleep practically on the street in tents, and who are the most vulnerable with the passage of «Hillary«.